SICOT e-Newsletter
Issue No. 7 - April 2009
News from Thailand
Dear all,
Greetings from Thailand!
Summer in Thailand extends from March to May and the temperature usually rises up to 35°C. One of the most important celebrations during this period is Songkran or the Thai New Year, which starts on 13 April every year. It is known as the Water Festival. The Songkran tradition is recognised as a valuable tradition for the Thai community, society and religions. The value it provides to families is that it gives them the opportunity to gather together. The younger members of the community express respect for their elders by pouring scented water onto the palms of their parent's and grandparent's hands. The elders are presented with gifts. This includes 'making merit' so that the gesture can be dedicated to their ancestors. The elders in turn wish the young good luck and prosperity.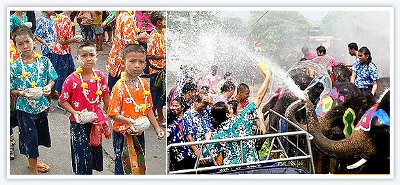 Later in the celebrations, after performing a bathing rite for Buddha images and the monks, the celebrants, both young and old, joyfully splash water on each other. The most talked about celebration takes place in the northern province of Chiang Mai where Songkran is celebrated from 13 to 15 April. During this period, people from all over the country flock to Chiang Mai to enjoy the Water Festival and to watch beautiful parades and the Miss Songkran Contest. Pattaya is another place where the Water Splashing Festival is held and the celebration there normally lasts a whole week.
Anyone visiting Thailand during this period of the year must be prepared to get wet! Soaking wet!!!
Regards,
Nondh Ninsanond
Local Organiser