Pattaya AIC 2009
Presidents' Dinner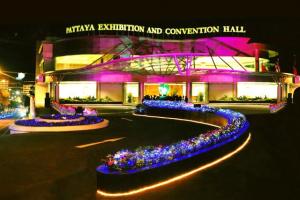 The Presidents' Dinner was hosted by the SICOT President, Prof Cody Bünger, and the Conference President, Prof Wichien Laohacharoensombat.
It was held at the world-class Pattaya Exhibition and Convention Hall and included an exquisite menu of authentic Thai cuisine.
This year, SICOT celebrates its 80th anniversary. To mark the occasion, Prof Charles Sorbie, President of SICOT from 1996 to 1999, highlighted the historical events and successes of the Society during the Dinner.
The Presidents' Dinner also included a Muay Thai (Thai Boxing) performance and two shows. The first show was a "KHON YOK ROB" performance, which is an excerpt from the masked play "RAMAYANA". This dance staged the hero "PRARAM", his younger brother "PRARAK", and the white monkey "HANUMAN" fighting together against the monster "TOSAKAN". The beautiful gesture of the dances was executed according to the rules of Thai classical dance. The second show included a professional singer and band for dancing.