SICOT e-Newsletter
Issue No. 7 - April 2009
Editorial by Prof Cody Bünger, SICOT President
SICOT opens dialogue with AAOS and EFORT on Global Challenges in Orthopaedic Surgery
During the 2009 AAOS Annual Meeting in Las Vegas, the SICOT leaders joined with both presidential lines of AAOS and EFORT to discuss urgent matters and potential unity roles of orthopaedic societies. The main topics were the establishment of collaboration within trauma care advocacy, fundraising for strategic actions, outreach programmes and evidence based orthopaedics.
Outreach Programmes
SICOT was kindly invited by AAOS to discuss an agenda set by the two presidents. AAOS has had an international programme for developing countries. The programme has stalled due both to lack of financial resources and to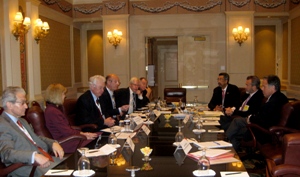 Meeting with AAOS in Las Vegas
poor contacts in recipient countries. Their international activities are run by an international committee, which is changing its chairman this year. Prof Miguel E. Cabanela is leaving office and is being replaced by Dr Jesse B. Jupiter, an American SICOT member. The aim is to strengthen dialogue and create sufficient financial and human resources for our Education Centres in developing countries. The plan is to enlarge the current programme in Africa where young orthopaedic surgeons on a fellowship receive education in a committed regional university centre, such as our Education Centre at Assiut University in Egypt. We want to establish Centres in Nigeria and Tanzania to exchange 'know-how' and skills as a first step. To improve the programmes, E-learning and Internet2-based teaching conferences will be added. Visiting Professors will add to the attractiveness of the programmes at the Centres. The SICOT Foundation, OREF, WOC and Orthopedics Overseas are natural resources for a combined fundraising activity which will improve the chances of getting external funding from large foundations.
Trauma Care Advocacy
The global burden of trauma is increasing. Despite this, health care providers have not yet been able to allocate adequate resources to this very important problem. SICOT has joined WHO and the Bone and Joint Decade in a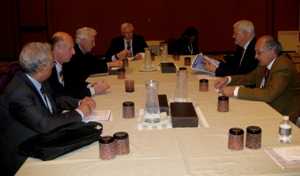 Meeting with EFORT in Las Vegas
new effort to define the minimal requirements for good trauma care. We want to set standards in areas with limited resources and influence the national health authorities to make that possible. A brilliant WHO initiative headed by Prof Musafir from Brazil will set milestones for the initiative at an upcoming meeting in Brazil during October 2009. That will be followed by a UN assembly of health ministers and opinion makers (SICOT and others) in Moscow later in December 2009. SICOT is planning a long-term activity in this triennium directed at trauma care, headed by our Trauma Committee. The SICOT Triennial World Congress in Prague 2011 will be the venue to evaluate the programme, with the participation of the involved organisations and scientific societies, at a major Trauma Symposium.
Evidence Based Medicine
As a leading scientific society, SICOT cannot ignore the major threats to future health care. Orthopaedics and musculoskeletal diseases consume more than 17% of health care budgets around the world. The average in the population of industrial countries is increasing. This creates a greater burden on health budgets and thus increased competition among medical disciplines. We all must work together to create evidence based orthopaedics. At present, orthopaedic research is far behind cardiovascular research in creating randomized prospective studies. They are cornerstones in the establishment of evidence based medicine. We need to focus on treatment guidelines and, as a scientific society, facilitate the process.
The combined role of AAOS, EFORT and SICOT is to create more financial resources and to promote the scientific process during our meetings. We are going to get together with EFORT in Vienna in June 2009 to discuss this topic further. Plenary talks on evidence based topics of paediatric orthopaedics are planned for Pattaya AIC 2009.
Cody Bünger
MD DMSc Professor
SICOT President
codybung@rm.dk