SICOT e-Newsletter
Issue No. 7 - April 2009
SICOT Events
- Sixth SICOT/SIROT Annual International Conference - Pattaya, Thailand
- 16th SICOT Trainees' Meeting - Kolobrzeg, Poland 
Training & Education
- SICOT Diploma Examination
- SICOT International Travelling Fellowship
- Case of the Month
Worldwide News 
-Â Reducing Non-vertebral and Hip fractures in older patients with Vit D supplements >400 IU/DÂ 
- More Arthroplasty surgeons needed in the US by 2016Â Â 
---
Editorial by Prof Cody Bünger, SICOT President
SICOT opens dialogue with AAOS and EFORT on Global Challenges in Orthopaedic Surgery
During the 2009 AAOS Annual Meeting in Las Vegas, the SICOT leaders joined with both presidential lines of AAOS and EFORT to discuss urgent matters and potential unity roles of orthopaedic societies. The main topics were the establishment of collaboration within trauma care advocacy, fundraising for strategic actions, outreach programmes and evidence based orthopaedics. Read more...
---
SICOT Events
Sixth SICOT/SIROT Annual International Conference
29 October-1 November 2009 - Pattaya, Thailand
combined meeting with the Royal College of Orthopaedic Surgeons of Thailand (RCOST)Â 
Click here to read about the Songkran or Thai New Year celebration, which takes place in April and is recognised as a valuable tradition for the Thai community, society and religions.
Conference abstracts: All submitted abstracts are currently being peer reviewed. Notification of acceptance or rejection will be sent by e-mail to the first author on 20 April 2009.
Reminder: At least one author of each abstract must register and pay the conference registration fee to have his/her abstract(s) included in the Final Programme and Abstract Book.

Plenary Speakers: SICOT is pleased to announce that Dr Oheneba Boachie-Adjei, President of the Scoliosis Research Society (SRS) and Chief of the Scoliosis Service at the Hospital for Special Surgery in Manhattan, New York, will be delivering a plenary lecture entitled "COMPLICATIONS AND REVISION RATES OF SPINAL FIXATION LOCKING MECHANISMS-TAPER LOCK AND SET SCREW/ROD CONSTRUCTS". Read more...

AVAILABLE SOON! The programme at a glance and the Faculty list will soon be published on the SICOT website! Please visit the website regularly for updated information about the Conference.
Discounted registration rates are being offered until 15 May 2009. Register now and take advantage of this offer! Only EUR 200 for SICOT members! 
NON-MEMBERS: Apply for SICOT membership before 15 May 2009 and save money on your conference registration fee!
Fun Night: Join us for a fun-filled night organised especially for young conference participants and those young at heart! Click here for more information.
Make the most of your stay in Pattaya and check out the excursions available in and around Pattaya.
16th SICOT Trainees' Meeting
7-9 May 2009 - Kołobrzeg, Poland
The Scientific Programme is now published on the Trainees' Meeting website.
Online registration for the Meeting is open here!
---
SICOT News
SICOT Administrative Meetings
The schedule for the administrative meetings to be held in Bangkok from 26 to 28 October 2009 and Pattaya on 30 October 2009 is now published in the Members' Area of the SICOT website. If you do not have your username (Member ID) and/or password, please contact the SICOT Head Office at hq@sicot.org.
---
Training & Education
SICOT Diploma Examination
The seventh SICOT Diploma Examination will take place on Thursday, 29 October 2009 in Pattaya, Thailand, during the Sixth SICOT/SIROT Annual International Conference and will consist of a written part and an oral part. The written part will be comprised of 100 multiple choice questions based on the Hyperguide. For the oral part, each candidate will be examined by two examiners in each of the four major subjects (Adult Orthopaedics and Pathology, Trauma, Children and Hands, and the Basic Sciences).
SICOT would like to thank the Examiners for giving their time and expertise to the Diploma Examination.
SICOT International Travelling Fellowship
Congratulations to Dr Ghulam Shabbir from Pakistan who has been selected for the 2009 SICOT International Travelling Fellowship. Dr Shabbir will be spending three months at the "Alessandro Manzoni" Hospital in Lecco, Italy, working under the tutorship of Prof Maurizio A. Catagni.
The awardee of the German Travelling Fellowship will be announced in the next issue of the e-Newsletter. For more information about the SICOT Travelling Fellowships, please visit the SICOT website.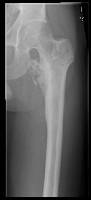 An 18-year-old young man is presented to the orthopedic department. Permanent pain in the left thigh is reported. He plays soccer once a week. The complaints began four weeks ago. He says that the pain is not getting better, sometimes he has the impression of low-grade fever.
       
At the time of presentation the X-ray shows a blurred, mixed lytic-sclerotic lesion, extended to the minor trochanter/proximal femoral epiphysis, with periosteal reaction (Fig. 1). 
       
Read more...
         
      
      
                       
Fig. 1Â Â Â Â 
     
---
Worldwide News
Reducing Non-vertebral and Hip fractures in older patients with Vit D supplements >400 IU/D
A recent meta-analysis was done of 12 published articles on Vit D supplements, in adults 65 and older. This involved 42,279 participants. The results showed that Vit D supplements in doses above 400 IU/D, reduced non-vertebral fractures by 20% and hip fractures by 18%.
They found that Vit D supplements in doses less than 400 IU/D did not reduce the fracture risk in both types. They noted that Calcium supplementation did not have any further protective effect against fractures even in individuals taking Vit D > 400 IU/D, this is due to the Calcium sparing effect of Vit D.
Bischoff-Ferrari HA, Willett WC, Wong JB. Prevention of non vertebral fractures with oral vitamin D and dose dependancy. A meta analysis of randomized controlled trial. Arch Intern Med 2009;169(6): 551-561
More Arthroplasty surgeons needed in the US by 2016
A paper presented in the AAOS 2009 Annual Meeting in Las Vegas predicted a shortage of surgeons performing total knee and hip arthroplasty in the US by 2016.
This is due to the rising number of patients needing these surgeries at a younger age, along with the growing elderly population. This is compounded by the decreasing number of young surgeons entering into the field, due to the economic disincentives for performing a total knee and hip arthroplasty. The falling reimbursement by Medicare has fallen significantly in recent years, which had deviated younger surgeons into fields like sports medicine and spine surgery.
Fehring, Kutz, Robb. AAOS 2009, Abstract 183Â 
---
Industry News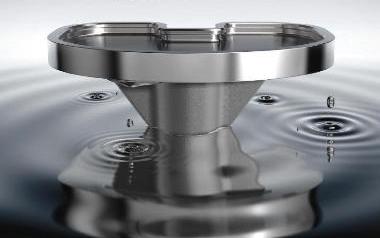 Born out of super polished
Cobalt Chrome.
Engineered for high performance.
Forged from super polished Cobalt Chrome and featuring the innovative i2 locking mechanism our Sigma® fixed bearing tibial components work together to minimise particle debris by reducing micro-motion between insert and tray. Delivering less wear to improve implant survivorship the Sigma® Cobalt Chrome Tray from DePuy is the ideal choice for today's high demand patients.
For more information, please visit www.depuykneesinternational.com  
Sigma® is a registered trademark of DePuy Orthopaedics, Inc.
© 2009 DePuy International Ltd. All rights reserved.


---
Editorial Department

Editorial Secretary: Prof Dr Syed Awais
Assistant Editorial Secretary: Dr Hatem Said
External Affairs: Linda Ridefjord
Special thanks to Prof Charles Sorbie

Rue Washington 40-b.9, 1050 Brussels, Belgium
Tel.: +32 2 648 68 23 | Fax: +32 2 649 86 01
E-mail: edsecr@sicot.org | Website: http://www.sicot.org 
---
Disclaimer: Some of the views and information expressed in this e-Newsletter include external contributors whose views are not necessarily those of SICOT. SICOT is not responsible for the content of any external internet sites.
---