Pattaya AIC 2009
Plenary Speakers
Prof Suthorn Bavonratanavech
"EVOLUTION OF TRAUMA SURGERY"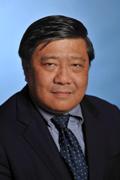 Prof Suthorn Bavonratanavech was born on 19 November 1952. He graduated from the Faculty of Medicine, Chiangmai University in Chiangmai, Thailand, in 1974, having gained a BSc (Honours) degree in Medicine. In 1978, he received the Diploma of the Thai Board of Orthopaedic Surgery (Thai Medical Council).
From 1979 to 1993, Prof Suthorn was an Instructor in Orthopaedic Surgery at the Pramongkutklao Medical College (Army Medical College), Pramongkutklao Hospital in Bangkok. At this Hospital, he was also a member of the clinical staff of the Orthopaedics Department.
Prof Suthorn was formerly the Medical Director of Mongkutwattana General Hospital, a position he filled from August 1993 to 1996. He was also Chief of the Orthopaedic Department of Bangkok General Hospital from 1996 to 2000, and since 2000 he has been working as Orthopaedic Surgeon at Bumrungrad Hospital.
Prof Suthorn is a life member of the Thai Medical Association, Royal College of Surgeons of Thailand, and Thai Orthopaedic Association. He is also a member of the ASEAN Orthopaedic Association, where he was President from 2004 to 2005. He is currently a member of the AOVA (Board of Directors of the AO Foundation) (2006-2009). He was a member of the AO Board of Trustees (1988-1992, 1999-2004 & 2004-2008) and Academic Council (1992-1999) of the AO Foundation, a trustee of the AO/ASIF Foundation (2000-2004 & 2004-2007), President (1995-1997 & 1997-1999) and Secretary General (2000-2008) of AO East Asia, and Chairman of the AO Alumni Thailand Chapter from 2002 to 2005. Prof Suthorn was also President of the Royal College of Orthopaedic Surgeons of Thailand (2004-2006), Founder Member of the Thai Osteoporosis Foundation, and Corresponding Member of the German Trauma Society in 2006.
His published works include Colles Fracture in the Royal Thai Army Medical Journal (Volume 31, No.3, May-June 1978), The Role of Early Internal Fixation in the Management of Open Fracture in the Journal of the Thai Orthopaedic Association (Volume 5, No. 1, March 1980), and Arthroplasty of the Hip in the Journal of the Thai Orthopaedic Association (Volume 10, No. 1, March 1985). He served as Editor of Minimally Invasive Plate Osteosynthesis published in 2006.
Since 1989, Prof Suthorn has been an invited speaker for trauma-related topics as well as AO courses, both regional and international.