SICOT e-Newsletter
Issue No. 6 - March 2009
SICOT News
- SICOT booth at the EFORT Congress 2009
SICOT Events
- Sixth SICOT/SIROT Annual International Conference - Pattaya, Thailand
- 16th SICOT Trainees' Meeting - Kolobrzeg, Poland 
Worldwide News 
-Â Orthopaedics & Traumatology Surgery & Research Journal
- Trauma Research Survey
- Greater quadriceps strength may preserve cartilage of the patellofemoral joint
- Higher mortality in hip fracture patients with protein energy malnutrition
---
Editorial by Prof Andrzej Bohatyrewicz, Chairman of the Organising Committee, 16th SICOT Trainees' Meeting
Dear Colleagues,

80 years after SICOT was founded in Paris, Poland has the honour and privilege for the first time in its history to invite world famous orthopaedic surgeons to the 16th SICOT Trainees' Meeting taking place on 7-9 May in Kołobrzeg. What is so special about this event? Read more...
---
SICOT News
  SICOT booth at the EFORT Congress 2009
SICOT will be present at the EFORT congress 2009 in Vienna, Austria, from 3 to 6 June 2009. We invite you to visit us at booth Y-10 (in Hall Y) to find out more about the Society and what we have to offer.
---
SICOT Events
Sixth SICOT/SIROT Annual International Conference


29 October-1 November 2009 - Pattaya, Thailand  
Combined meeting with the Royal College of Orthopaedic Surgeons of Thailand (RCOST)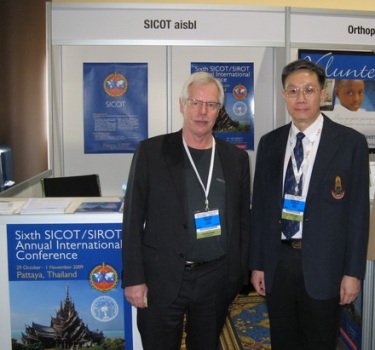 Prof Saranatra Waikakul (right), RCOST President, and Prof Cody Bünger (left),
SICOT President, in front of the SICOT booth at the AAOS Annual Meeting
held from 25 to 28 February in Las Vegas
Call for abstracts: Only 10 days left until the online abstract submission deadline! Please submit your abstract(s) here until 15 March 2009.
Plenary Speakers: SICOT is pleased to announce that Prof Suthorn Bavonratavanech will be delivering a plenary lecture entitled "EVOLUTION OF TRAUMA SURGERY" at the Sixth SICOT/SIROT Annual International Conference. Read more...
Registration: Apply for SICOT membership before 15 May 2009 and save money on your conference registration fee!
Accommodation: Discover the great variety of hotels available in Pattaya and book a room here.
16th SICOT Trainees' Meeting




7-9 May 2009 - Kołobrzeg, Poland
Registration: The registration form is available on the Trainees' Meeting website: www.sicot-orthopedics.pl
Call for abstracts: Online abstract submission is now closed.
---
Training & Education
Assiut University/SICOT Training Fellowship Report
Dr Ikpeme Asanye Ikpeme reports on the Training Fellowship which he undertook at the Assiut University in Egypt from September 2008 to February 2009. Read more...
AÂ six-year-old girl was presented to the children's orthopedic department with bone pain in projection to the diaphyseal region of the left tibia. Her parents reported two subsequent fractures of the left tibia one and two years before which were treated by casting (Figs. 1 and 2 below).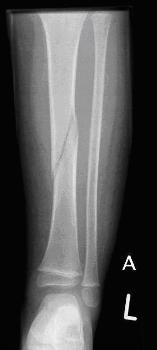 Fig. 1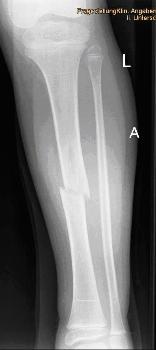 Fig. 2
---
Worldwide News
Orthopaedics & Traumatology Surgery & Research Journal
Early in 2009, a new journal, Orthopaedics & Traumatology Surgery & Research (OTSR), will be made available to orthopaedic surgeons and researchers in the related sciences. Read more... 
Medical doctors undertaking trauma research at the Royal Perth Hospital in western Australia are currently doing a worldwide survey (in cooperation with the Michigan State University and the University of Zurich) on the future of trauma systems and surgery. The main goal is to see the concerns and expectations that surgeons have regarding the organisation of trauma care. Please take a minute to complete the survey and help them continue their research: www.traumaresearch.org.
Greater quadriceps strength may preserve cartilage of the patellofemoral joint
A recent study of 265 patients with symptomatic knee Osteoarthritis, over a period of 30 months, has shown that greater quadriceps strength protected against cartilage loss in the lateral compartment of the patellofemoral joint. The researchers of the Mayo Clinic measured pain, physical function, quadriceps strength and MRI of the knee joint.
Although there was no influence on cartilage loss in the tibiofemoral joint, the overall pain was less and the physical function improved with better quadriceps muscles.
This study confirms the need to maintain good quadriceps muscles in patients with knee OA.
Arthritis Rheum 2009 Jan;60(1), 189-98
Higher mortality in hip fracture patients with protein energy malnutrition
A study presented in the OTA in October 2008, showed that patients admitted with hip fractures and protein energy malnutrition (PEM), have a 9.8% more chance of intra-hospital mortality compared with patients without PEM. They also followed the 200 patients for 12 months, and the mortality rates were higher in the PEM group.
PEM was defined by an Albumin level less than 3.5g/dl and a total lymphocytic count less than 1500 cells/mm3. This was found in 51% of the patients studied.
This study emphasises the importance of nutrition in these elderly patients.
O'Daly BJ, Walsh JC, Quinlan JF, et al. Are serum albumin and total lymphocyte count accurate predictors of outcome in hip fractures? Presented at the 24th Annual Meeting of the Orthopaedic Trauma Association. Oct. 16-18, 2008. Denver
---
Industry News
Active Implants Corporation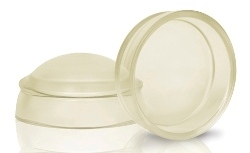 TriboFit Hip System®
Active Implants Corporation's TriboFit® Hip System introduces a new, polycarbonate-urethane, or PCU, bearing material that eliminates the need for conventional polyethylene materials that are found in most hip implants on the market today. The TriboFit® Hip System provides a soft, resilient interface between the natural acetabulum, and the reconstructed femoral head, and replaces the cartilage bed in the acetabulum. The TriboFit® Hip System is designed to be a low wear, long lasting implant system that restores the shock absorbing aspects of the joint and introduces new hydrophilic material qualities that promote joint lubrication.
More information at: www.activeimplants.com
---
Editorial Department 
Editorial Secretary: Prof Dr Syed Awais
Assistant Editorial Secretary: Dr Hatem Said
External Affairs: Linda Ridefjord
Special thanks to Prof Charles Sorbie

Rue Washington 40-b.9, 1050 Brussels, Belgium
Tel.: +32 2 648 68 23 | Fax: +32 2 649 86 01
E-mail: edsecr@sicot.org | Website: http://www.sicot.org
---
Disclaimer: Some of the views and information expressed in this e-Newsletter include external contributors whose views are not necessarily those of SICOT. SICOT is not responsible for the content of any external internet sites.  
---