Pattaya AIC 2009
Plenary Speakers
Prof Dr Martin Krismer
"A DIRECT ANTERIOR APPROACH FOR HIP ARTHROPLASTY - TECHNIQUE, POTENTIAL, AND CRITICAL VALUATION"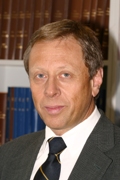 Martin Krismer was born in Innsbruck, Austria, in April 1955. There, he finished his medical studies in 1979. After training in several Austrian hospitals he qualified as a university lecturer at Innsbruck Medical University in 1996. He was appointed full professor of Orthopaedics and Head of the Department of Orthopaedics in 2001 and Head of the Centre of Operative Medicine at Innsbruck Medical University in 2008.
Martin Krismer has been President of the Austrian Orthopaedic Society and the European Hip Society, and in this function organised the corresponding congresses in 2004 and 2005. He organised also the EuroSpine Congress in 1998. In 1993 he received the Jacques Wagner Award at the 19th SICOT Congress in Seoul, Korea, and the VOLVO Award for Low Back Pain Research at the ISSLS-Congress in Burlington, Vt., USA.
One of his main fields of interest is minimal invasive hip surgery, where he and his colleagues tried to develop the direct anterior Smith Peterson approach to a highly standardised approach for hip arthroplasty. Migration of hip arthroplasties is a further topic, where he has given some input to develop the EBRA software for migration measurement of hip arthroplasties. In biomechanics of the spine he could show that axial rotation creates loads only on half of the anulus fibers and that degeneration of these fibers causes more axial rotation and stress on facet joints.
Martin Krismer has been married since 1984 and his pride and joy are his four children.