SICOT e-Newsletter
Issue No. 5 - February 2009
SICOTÂ News
- SICOT booth at the AAOS 2009 Annual Meeting
- SICOT Administrative Meetings
SICOT Events
- Sixth SICOT/SIROT Annual International Conference - Pattaya, Thailand
- 16th SICOT Trainees' Meeting - Kolobrzeg, Poland 
Worldwide News 
- Bone mineral density loss in adolescent girls using DMPA
- Causes of failure of total hip arthroplasty
- WHO News Release: Checklist helps reduce surgical complications, deaths
- New regulations for travellers to the United States from Visa Waiver Countries
---
Editorial by Prof Wichien Laohacharoensombat, Conference President - Pattaya AIC 2009
Dear All,

Greetings from Thailand!

On behalf of the local organising committee, I would like to assure you that the political disturbances during recent months in Thailand have now been resolved. The protests that occurred were almost entirely peaceful and did not affect those not involved in them apart from the delays caused by the Bangkok airport closure. The new government has made the safety of visitors a top priority, so please rest assured that order has been restored and travelling to Thailand is safe. Read more...
---
In Memoriam
It is with deep regret that we announce that Prof Henri Bensahel passed away on Sunday, 25 January 2009. Prof Bensahel was a Founding Member of IFPOS (International Federation of Paediatric Orthopaedic Societies) and he was a member of the Federation's Executive Board at the time of his death. He will be greatly missed by SICOT. Read more...
---
SICOT News
SICOT booth at the AAOS 2009 Annual Meeting
SICOT will be present at the American Academy of Orthopaedic Surgeons 2009 Annual Meeting in Las Vegas from 25 to 28 February 2009. We invite you to visit us at booth CB20 (Hall C Lobby) to find out more about the Society and what we have to offer.
SICOT Administrative Meetings
Please note that the SICOT Administrative Meetings will take place in Bangkok, Thailand, from 26 to 28 October 2009.
---
SICOT Events
Sixth SICOT/SIROT Annual International Conference


29 October-1 November 2009 - Pattaya, Thailand
Call for abstracts: Online abstract submission closes on 15 March 2009! Don't miss the deadline! Please submit your abstract(s) here.
Plenary Speakers: SICOT is pleased to announce that Prof Martin Krismer, Head of the Centre of Operative Medicine at Innsbruck Medical University in Austria, will be delivering a plenary lecture at the Sixth SICOT/SIROT Annual International Conference. Read more...
Accommodation: Discover the great variety of hotels available in Pattaya and book a room here.
16th SICOT Trainees' Meeting




7-9 May 2009 - Kołobrzeg, Poland
Call for abstracts: The deadline for online abstract submission is 15 February 2009! Please submit your abstract(s) via the SICOT website.
---
Training & Education
Orthopaedic Training in India
This month we are featuring an article on orthopaedic training in India. Click here to find out more.

Training opportunities available in other countries are listed on the "Training Opportunities" page of the SICOT website.
This is a male patient, 38 years old, with pain in his Lt hip and limping for 3 months. For the last 2 weeks he is not able to put weight on his Lt lower limb. X-rays as in Fig.1 and Fig.2 below: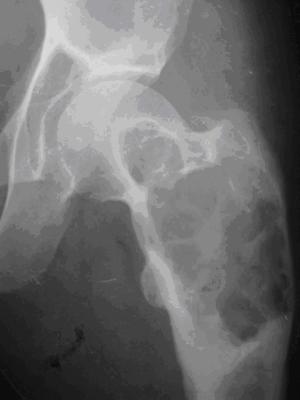 Fig. 1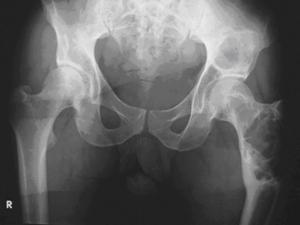 Fig. 2

What is the possible diagnosis? Read more...
---
Worldwide News
Bone mineral density loss in adolescent girls using DMPA
A recent study published in 2008, reported adolescent girls using Depot Medroxy Progesterone Acetate (DMPA) for contraception, get a considerable drop in bone mineral density (BMD) in the first year of use. This study compared DMPA, oral contraceptives and controls. Using DEXA they found a -5.2% drop in BMD of the femoral neck in the DMPA group in the first year of use. However, this loss dropped 10 fold in the following year. For the oral contraceptives and control groups, there was an increase of +3% and +3.8% of BMD respectively. These levels do not reach osteopeina, and thus unlikely to increase fracture risks. The abstract is available at http://www.pubmed.com. Please enter the following reference: Fertil Steril 2008;90:2060-2067
Causes of failure of total hip arthroplasty
A recent study published in the JBJS Am, reviews the records of 51,345 revision THA in the US. The commonest cause for revision was instability/dislocation (22.5%), mechanical loosening (19.7%), and infection (14.8%). The average hospital stay was 6.2 days, and the average cost was $54,553 for a revision THA. The abstract is available at http://www.pubmed.com. Please enter the following reference:Â J Bone Joint Surg Am. 2009 Jan;91(1):128-33
WHO News Release: Checklist helps reduce surgical complications, deaths
Surgical adverse events reduced by one third in trials in eight countries. Read more... 
New regulations for travellers to the United States from Visa Waiver Countries
Beginning in January 2009, all international travellers who are seeking to travel to the United States under the Visa Waiver Program are now subject to enhanced security requirements. Read more... 
---
Industry News
AMIS®, anterior minimally invasive surgery, is the only surgical approach which is both intra-muscular and intra-nervous during a THA. Thanks to a specific instrumentation, including a mobile leg positioner, the surgeon can operate in a safe and reproducible environment. More than 20,000 AMIS® surgeries performed worldwide demonstrate the success of this technique allowing patients to return to daily activities within a few days. Medacta offers a comprehensive educational program to reduce the learning curve associated with this new technique.
More information on: http://www.medacta.ch  
 
 
---
Editorial Department 
Editorial Secretary: Prof Dr Syed Awais
Assistant Editorial Secretary: Dr Hatem Said
External Affairs: Linda Ridefjord
Special thanks to Prof Charles Sorbie

Rue Washington 40-b.9, 1050 Brussels, Belgium
Tel.: +32 2 648 68 23 | Fax: +32 2 649 86 01
E-mail: edsecr@sicot.org | Website: http://www.sicot.org
---
Disclaimer: Some of the views and information expressed in this e-Newsletter include external contributors whose views are not necessarily those of SICOT. SICOT is not responsible for the content of any external internet sites.  
---