SICOT e-Newsletter
Issue No. 3 - December 2008Â 
SICOT Events 
- 16th SICOT Trainees' Meeting - Kolobrzeg, Poland
- SICOT/SIROT 2008 XXIV Triennial World Congress - Hong Kong, China
Training & Education
- SICOT Travelling Fellowships
- Training & Fellowships in New Zealand
- Case of the Month
Worldwide News
- Proactive initiatives can reduce hip fracture rates
- Active role by orthopaedist improves osteoporosis management after hip fracture
- U.S. Attorney who brought cases against device manufacturers resigns
- New regulations for travellers to the United States from Visa Waiver Countries  
---
Editorial by Prof Cody Bünger, SICOT President
Thank you for the honour of serving you as president for the next three years. While the world changes, SICOT is an old society with rich traditions. However, changes are needed for SICOT to adapt to the development of orthopaedics in the world. We must focus on the future role of SICOT as a top-level, truly international society with broad wings bridging basic science to outreach clinical programmes. Our goals and missions must be visible and transparent both for our members and for the outside world. SICOT life is not limited to our annual meetings but should be identifiable throughout the year with clear messages. Our recent past presidents, Charles Sorbie, Rainer Kotz, John Leong, and Chadwick Smith have each contributed to the unique platform on which we are now standing. The new Executive Committee with Jochen Eulert, Chadwick Smith, Patricia Fucs, Maurice Hinsenkamp, and Thami Benzakour has certainly all the experience you can wish for to pursue our goals. However, it is clear to me that we need a "bottom-up" input of novel ideas from well-motivated and new generations of members, as called for during our latest International Council meeting in Hong Kong. Read more...
---
SICOT News
New members have been appointed to the SICOT Committees. Click here to discover who they are!
---
SICOT Events
16th SICOT Trainees' Meeting




7-9 May 2009 - Kołobrzeg, Poland
Call for abstracts is now open! Abstract submission deadline:
31 January 2009


SICOT/SIROT 2008 XXIV Triennial World Congress




24-28 August 2008 - Hong Kong, China
Plenary speakers: This month we are featuring Prof James Kellam, who gave a lecture on "ORTHOPAEDIC TRAUMA: EVOLUTION IN CARE". Read more... 
---
Training & Education
SICOT Travelling Fellowships
More information about the new SICOT Travelling Fellowships can now be found here! 
Training & Fellowships in New Zealand
This month we are featuring orthopaedic training and fellowship opportunities in New Zealand. Click here to find out more.
Other training opportunities available worldwide are listed on the "Training Opportunities" page of the SICOT website.

A 64-year-old man with type 2 diabetes collapsed unconscious due to hypoglycaemia and sustained a fall in his garden. Afterwards, he noticed pain, weakness and loss of active abduction and elevation.
Four weeks later he presented himself to the orthopaedic surgeon with painful active elevation of 60° and loss of external rotation.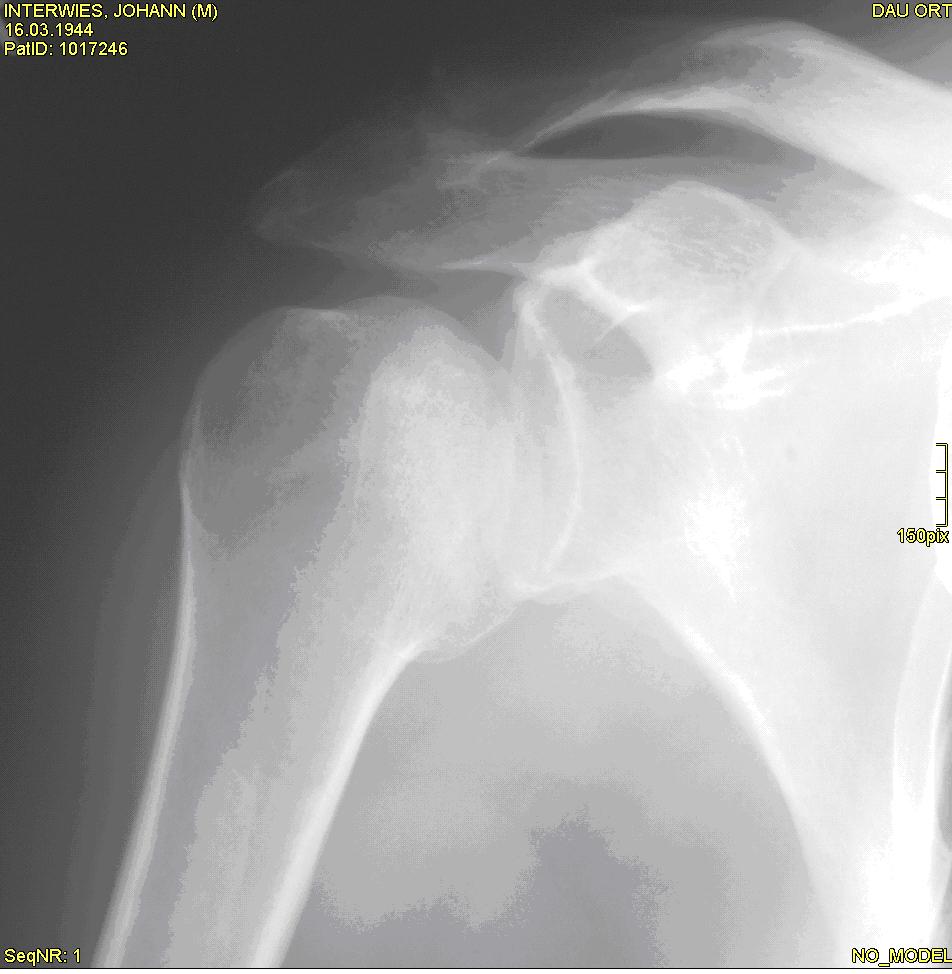 (figure 1)
What is your diagnosis? Read more...
---
Worldwide News
Proactive initiatives can reduce hip fracture rates
A study published online by the Journal of Bone and Joint Surgery (American) finds that proactive measures can reduce hip fracture rates by an average of 37.2 percent among those at risk. The 5-year study tracked more than 625,000 male and female patients over the age of 50 in southern California who had specific risk factors for osteoporosis or hip fractures. The implementation of initiatives such as increasing the use of bone density test (DXA scans) and anti-osteoporosis medications; adding osteoporosis education and home health programs; and standardizing the practice guidelines for osteoporosis management reduced hip fracture rates beyond the goal rate of 25 percent. Read more...
Active role by orthopaedist improves osteoporosis management after hip fracture
Orthopaedic surgeons who take an active role in the management of osteoporosis can improve the rate of treatment at six months following a hip fracture, according to the results of a study published in the Nov. 1 issue of the Journal of Bone and Joint Surgery (American). Researchers conducted a prospective randomized study of 62 patients (31 each in control and intervention groups), and found that the percentage of patients on pharmacologic treatment for osteoporosis at six months post-fracture was significantly greater when the evaluation was initiated by the orthopaedic surgeon and managed in a specialized orthopaedic osteoporosis clinic (58 percent) than when treatment was managed by a primary care physician (29 percent) (p = 0.04). (Abstract) Read more... 
U.S. Attorney who brought cases against device manufacturers resigns
The New Jersey Star-Ledger reports that Christopher J. Christie, U.S. Attorney for the District of New Jersey, has resigned his post effective Dec. 1. Mr. Christie was the prosecutor who previously brought cases against the five largest orthopaedic hip and knee device manufacturers, claiming that they had paid financial inducements to surgeons to use their products in violation of the federal anti-kickback statute. The cases were settled on Sept. 27, 2007, when the manufacturers agreed to pay a fine, post the names of all physicians and the amount of compensation each had received from the companies in 2007, and to be federally monitored for 18 months. Read more...
New regulations for travellers to the United States from Visa Waiver Countries
- Effective January 2009Â 
Beginning in January 2009, all international travellers who are seeking to travel to the United States under the Visa Waiver Program are now subject to enhanced security requirements. Read more...


---
Industry News
FAST FACTS:
♦ Xarelto® (rivaroxaban) is a novel, oral direct Factor Xa inhibitor (Perzborn E. J Thromb Haemost 2005; 3: 514-21). On September 30, 2008, the European Commission granted marketing approval for 'Xarelto' for the prevention of venous thromboembolism (VTE) in adult patients undergoing elective (planned) hip or knee replacement surgery. 'Xarelto' received its first marketing approval in Canada on September 15, 2008, for the prevention of venous thromboembolic events (VTE) in patients who have undergone elective total hip or total knee replacement surgery. 'Xarelto' was submitted in July 2008 for approval to the U.S. Food and Drug Administration (FDA). On approval, Ortho-McNeil, a Division of Ortho-McNeil-Janssen Pharmaceuticals, Inc., will market the drug in the United States. In addition to the FDA submission, filings are under review with regulatory agencies in more than 10 other countries.
♦ 'Xarelto' is also in advanced development in a range of indications for the prevention and/or treatment of potentially deadly blood clots.
♦ 'Xarelto' does not require injection or routine coagulation monitoring.
♦ The extensive clinical trial program for 'Xarelto' makes it the most studied oral anticoagulant in the world today.
♦ 'Xarelto' was invented in Bayer's Wuppertal laboratories in Germany, and is being jointly developed by Bayer HealthCare and Johnson & Johnson Pharmaceutical Research & Development, L.L.C.
To learn more about thrombosis please visit www.thrombosisadviser.com  
To learn more about 'Xarelto' please visit www.xarelto.com
---
Editorial Department 
Editorial Secretary: Prof Dr Syed Awais
Assistant Editorial Secretary: Dr Hatem Said
External Affairs: Linda Ridefjord
Special thanks to Prof Charles Sorbie

Rue Washington 40-b.9, 1050 Brussels, Belgium
Tel.: +32 2 648 68 23 | Fax: +32 2 649 86 01
E-mail: edsecr@sicot.org | Website: http://www.sicot.org
---
Disclaimer: Some of the views and information expressed in this e-Newsletter include external contributors whose views are not necessarily those of SICOT. SICOT is not responsible for the content of any external internet sites.  
---