SICOT e-Newsletter
Issue No. 4 - January 2009
SICOTÂ News
-Â Committee Life: Education Committee Report
SICOT Events
- Sixth SICOT/SIROT Annual International Conference - Pattaya, Thailand
- 16th SICOT Trainees' Meeting - Kolobrzeg, Poland
- SICOT/SIROT 2008 XXIV Triennial World Congress - Hong Kong, China
Training & Education
- Orthopaedic Training in Hong Kong
- SICOTÂ Travelling Fellowships
- Case of the Month
Worldwide News 
-

Long-term survival of cemented prostheses vary widely in older patients


- New regulations for travellers to the United States from Visa Waiver Countries
---
Editorial by Prof Dr Syed Awais, Editorial Secretary
The SICOT e-Newsletters are expected to publish news for its members and participants of past congresses/conferences that refers to the past, present and future of SICOT plans, initiatives and services which relate to the academic, professional, technological and social development of orthopaedic surgery and traumatology. The contributions of the authors and editorial team of the previous SICOT Newsletters are very valuable and are acknowledged and appreciated. The present team should make all efforts to maintain the standards achieved in the past, and try to address more professional issues and involve more SICOT Members, National Delegates and Executives and make the Newsletters and e-Newsletters even better.  
With this target in mind, the issues that are expected to appear more in coming e-Newsletters will include the Manual of Learning Objectives of the Training of Orthopaedic Surgeons, guidelines and educational material for in-training residents and practicing orthopaedic surgeons, the SICOT Diploma Examination, young surgeons' contributions and their professional development, new developments in industry and information technology in the fields of orthopaedics and health care, and the exchange of information about practice of orthopaedics in different countries.  
All Executive Members, National Delegates, and SICOT Members are invited to write whatever they think is relevant to achieving the SICOT goals. They may write under specific headings and email Linda Ridefjord at the SICOT Head Office at edsecr@sicot.org or directly to the Editorial Secretary (me) at drsmawais@gmail.com.
The Executive Members and National Delegates are invited to act as guest Editor and write an editorial of 300 words. They may base their editorial on any academic, professional, technological or ethical theme that is related to the field of orthopaedics and traumatology. Their presence on the Newsletter Editorial Board will be very valuable to SICOT.
---
SICOT News
Committee Life: Education Committee Report
Click here to read the annual report of the Education Committee Chairman, Prof Charles Sorbie.
---
SICOT Events
Sixth SICOT/SIROT Annual International Conference


29 October-1 November 2009 - Pattaya, Thailand
Call for abstracts: Abstract submission is open until 15 March 2009!
Accommodation: Click here to discover the great variety of hotels available in Pattaya.
16th SICOT Trainees' Meeting




7-9 May 2009 - Kołobrzeg, Poland
Call for abstracts: The deadline for abstract submission has been extended to
15 February 2009!


SICOT/SIROT 2008 XXIV Triennial World Congress




24-28 August 2008 - Hong Kong, China
Plenary speakers: This month we are featuring Prof Thomas Oxland, who gave a lecture on "BIOMECHANICAL ASPECTS OF SPINAL CORD INJURY". Read more... 
---
Training & Education
Orthopaedic Training in Hong Kong 
This month we are featuring orthopaedic training in Hong Kong. Click here to find out more. 

Training opportunities available worldwide are listed on the "Training Opportunities" page of the SICOT website.
SICOT Travelling Fellowships
Every year, SICOT is offering three young surgeons three-month fellowships to visit an international medical centre. The aim is to attend and learn at a renowned education centre to improve knowledge and surgical skills. The value of this fellowship is EUR 4,000, which includes travel and accommodation. Read more...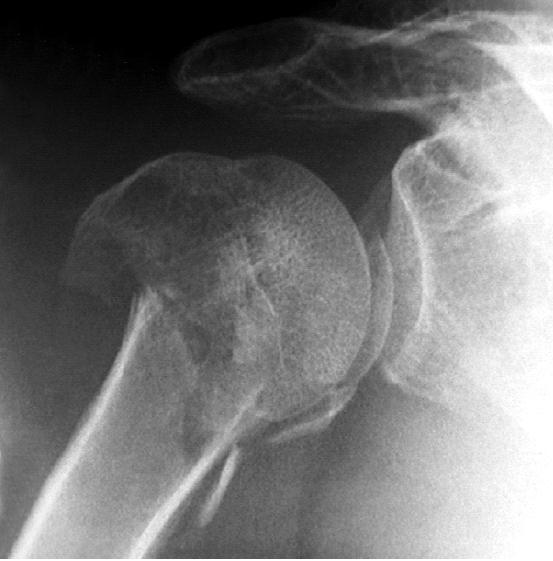 A 52-year-old male carpenter sustained a fall and presented himself with a painful shoulder.
The X-ray (figure 1) shows clear signs of:
Subcapital fracture?
Displaced 4-part fracture?
Displaced 3-part fracture with head split?
Dislocation fracture?
Pathological fracture?
---
Worldwide News
Long-term survival of cemented prostheses vary widely in older patients
A Finnish study published in the December issue of the Journal of Bone and Joint Surgery*British Volume finds differences in the long-term survival of cemented prostheses among older patients. The researchers reviewed records from the Finnish Arthroplasty Register regarding long-term survivorship of the 12 most commonly-used cemented implants between 1980 and 2005 in osteoarthritis patients aged 55 years or older. They found that only two femoral component designs had greater than 95 percent survivorship at 10 years, and only one implant combination had a survival rate greater than 90 percent at 15 years. In all cases, the endpoint was revision for aseptic loosening. Of the cemented prostheses studied in patients between 55 and 64 years of age at the original surgery, none had survival rates greater than 90 percent at 15 years. (*Abstract) Read more...
New regulations for travellers to the United States from Visa Waiver Countries
- Effective January 2009Â 
Beginning in January 2009, all international travellers who are seeking to travel to the United States under the Visa Waiver Program are now subject to enhanced security requirements. Read more...
---
Editorial Department 
Editorial Secretary: Prof Dr Syed Awais
Assistant Editorial Secretary: Dr Hatem Said
External Affairs: Linda Ridefjord
Special thanks to Prof Charles Sorbie

Rue Washington 40-b.9, 1050 Brussels, Belgium
Tel.: +32 2 648 68 23 | Fax: +32 2 649 86 01
E-mail: edsecr@sicot.org | Website: http://www.sicot.org
---
Disclaimer: Some of the views and information expressed in this e-Newsletter include external contributors whose views are not necessarily those of SICOT. SICOT is not responsible for the content of any external internet sites.  
---