Affiliated Societies
ARTOF - Association for the Rational Treatment of Fractures

  
Article by Dr James P. Waddell, Past President of ARTOF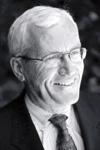 The Association for the Rational Treatment of Fractures (ARTOF) is a small organisation that does not solicit general membership, has no annual meetings and has no dues. So, our Board is dedicated to improving the dialogue amongst orthopaedic surgeons with regard to fracture care.

We have formed associations with a number of organisations including the Central European Orthopaedic Congress, EFORT, SICOT, and the Orthopaedic Trauma Association to participate in their meetings as facilitators of dialogue in fracture care.

Typically we will arrange a half-day instructional course on specific fracture topics such as fractures of the distal radius, fractures of the proximal humerus, femoral fractures or other fractures in which some controversy exists with regard to management.

We recruit specific individuals from the organisation whose meeting we are attending to present their point of view regarding fracture management and try to engage the audience in a dialogue.

We also are active participants in postgraduate training, being invited on an annual basis to the OTA (Orthopaedic Trauma Association) Residents' Course in Fracture Care and participating fully in the SICOT sponsored Trainees' Programme.

Individuals who are interested in learning more about our organisation should write to: waddellj@smh.toronto.on.ca.